SAM ERP2 - control of the economic and financial situation and company operational processes
The solution automatically manages all internal business processes and interacts in real time with the production and commercial lines.
Customized for the needs of the financial sector, SAM-ERP interfaces with the applications developed by Sefin for the management of:
factoring transactions, impaired loans, loan securitization transactions, salary-backed loans. By making use of the integration with the MMS Document Management System, it can manage various phases of document lifecycles – both Active and Passive Cycles.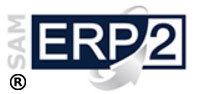 *SAM ERP2 is a registered trademark of Centro Software
ERP2 can also receive data from other management systems thanks to the XML import and generator functions, and SQL views on the database are available to other management systems.
INTEGRATIONS WITH OTHER SOLUTIONS DEVELOPED BY SEFIN:
Share Management, Claims and Commissions, Insurance Reports, Bank Reports, Bad Debts, Passing to Losses, Reports, Fulfillment and Reporting Forms, Insolvency Management)

Management software for the salary-backed loans linked to 1/5th of salary
(from the package acquisition phase to collection - articulated with a workflow logic, it is easily adaptable to emerging needs and requirements)

Bad-Credit Management: the management of Non-Performing Loans (NPL)
(Active and Passive Cycles)

Document management

(Management of transactions received from the Special Servicers)

Master servicer - management of securitization transactions
(Management without recourse, "Riba" (Bank Receipts/Direct Debit), SDD (Sepa Direct Debit), notices, Direct and subsidiary import / export, foreign to foreign, Discount, Maturity, Virtual stamp; Online transferor portal)

W-FIRST - Solutions for Factoring companies
Administrative and Financial Area
MODULES:
Shipping
invoicing
general accounting (Chart of Accounts, Chart of Accounts and General Ledger, Cards and Account Statement, Ledgers, VAT Registers and Settlement, Intra-Community Lists and Exporters VAT Plafond, EEC Balance Sheets and Reclassified, Annual Closing Operations)
withholding taxes
treasury
financial management
Fixed assets
Management control area
MODULES:
Analytical accounting
Advanced statistics
Security and development tools
SDK (Software Development Kit)
Mail collector
Privacy and access controls
Report Generator Tool
Security System
Workflow and shared data
Workflow Design
Audit Trail
Personal Dashboard
Basic tables
Integration with document archiving
XML import e XML generator
SQL Queries
Digital Archiving
Archiving of issued and received invoices
Archiving in accordance with the applicable laws and norms