Fast Credit Transmission: Send of transfers to the Factor
Acquisition of credit transfer and the monitoring of the activity of the transferor.

FCT (Fast Credit Transmission) it is a solution designed both for the Factor and for the transferor, in fact in the system both the access via a "Factor" profile and the "Transferor" profile is provided. The Transferor can then quickly upload the presentations of the Transfers and send them, directly from FCT, to the Factor that can view them.
Also The Factor will also be able to control the Transferor's activity by entering inside of the FCT with ad hoc profile that allows to see the list of all transferor qualified to broadcast of presentation and to visualize the data like a particular Transferor.
By entering in "Transferor" mode, the Factor will be able to log into the same functionality of Transferor.
This two modality of profile allow to the Factor to monitor all the activity.
How are credit transfers loaded?
The registration of transfers inside of the software can be happen with upload a file EXCEL, TXT o CSV or else by entering manually the data from the page prepared for the data entry.
The tracing of the excel, txt or csv sheet is agreed with the Factor so that it can be used by the system and the data are exact and with the correct formatting. The system also notifies, in a specific column, the errors present in the presentation and prevents the Transferor from sending incorrect or incomplete information to the Factor.
FCT guarantees a considerable riduction of time pruduction and the integrity of the data sent to the Factor.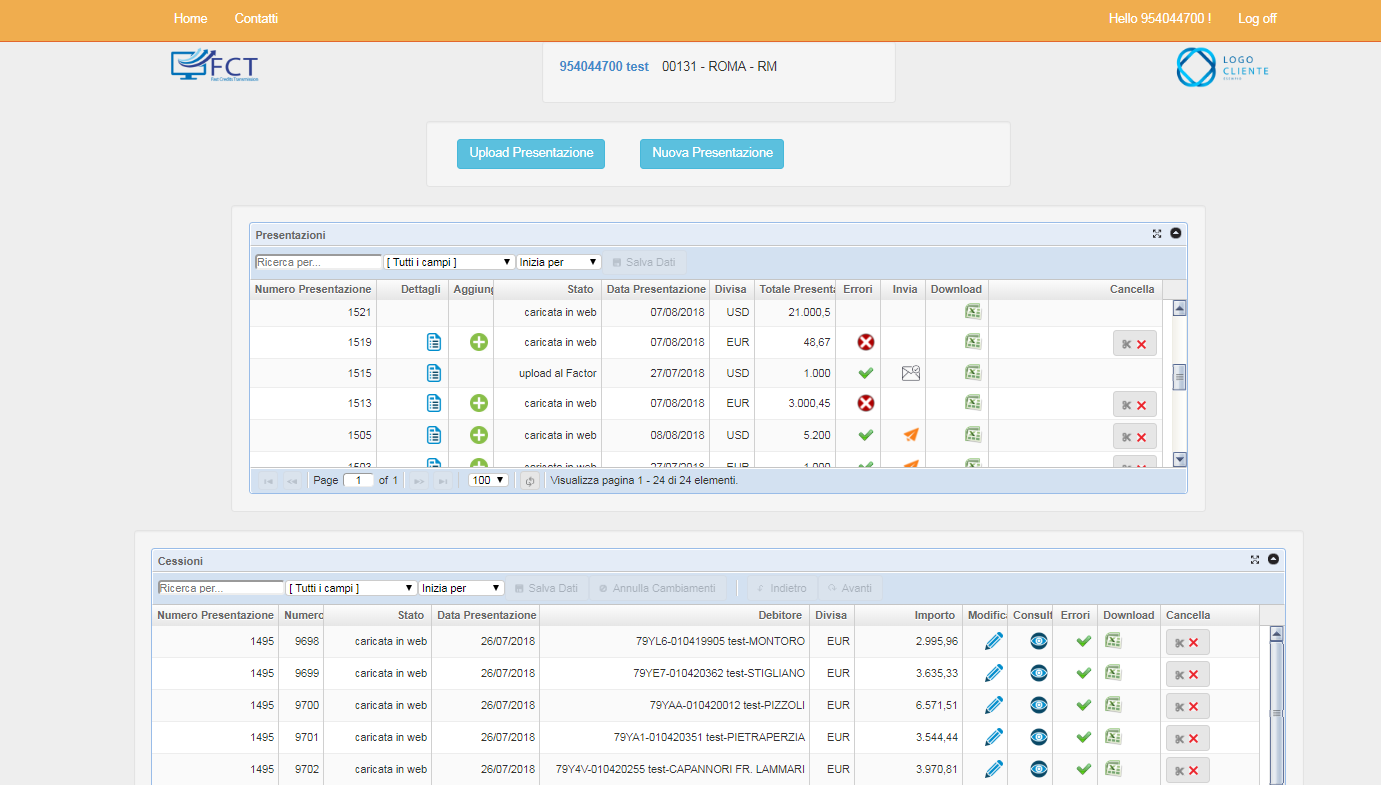 SUPPLEMENT
Fast Credit Transmission integrates with the W-First, updated by factoring company.
All data upload on FCT and W-First can be analyze through handy report create ad hoc with the costumers or in base of a Template already defined, thanks to the integration with the application Data Whol. Through Data Whol the data can be:
Filtered
Sorted
Aggregate
Downloaded in excel, csv or txt format